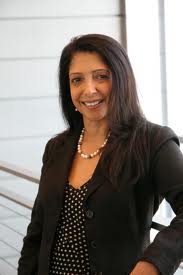 Senior Research Scientist and Director
Center for Cognitive Studies in Medicine and Public Health, The New York Academy of Medicine, New York, NY
Professor
Department of Biomedical Informatics, Arizona State University, Phoenix, AZ
Adjunct Professor
Department of Biomedical Informatics, Columbia University, New York, NY
Adjunct Professor of Healthcare Policy and Research
Weill Cornell College of Medicine, New York, NY
Research Affiliate
Mayo Clinic, Scottsdale, Arizona
Consultant, IBM
E-mail: vpatel.nyam.org
Phone: 212.822.7388
Office: 1216 Fifth Avenue at 103rd Street, New York, NY, 10029

Degree: PhD, DSc, FRSC
University: McGill University, MA(1980), PhD(1981)
Bio:
Dr. Patel is a Senior Research Scientist and Director of the Center for Cognitive Studies in Medicine and Public Health at the New York Academy of Medicine.

She holds a BSc in Biochemistry from Otago University in New Zealand and a MA and Ph.D. in Educational and Cognitive Psychology (Medical Cognition) from McGill University in Montreal. As Professor of Medicine and the director of Cognitive Science Center at McGill, her early research focused on scientific foundations for medical and health education, particularly in cognitive foundations of medical decision-making. Subsequently, she expanded these research activities with an informatics focus at Columbia and Arizona State Universities as well as at University of Texas-Houston, where she was appointed as professor in their departments of Biomedical Informatics with joint or adjunct appointments in the NY Institute of Mental Health (Columbia), Department of Psychology (ASU) and School of Psychiatry and Behavioral Health Science (UTH). This allowed her to explore the relationship between Cognitive, behavioral and information sciences in the biomedical domain.
An elected fellow of the Royal Society of Canada (Academy of Social Sciences), the American College of Medical Informatics, and the New York Academy of Medicine, she was a recipient of the annual Swedish "Woman of Science" award in 1999. She received an Honorary Doctor of Science degree from the University of Victoria in 1998, in recognition of her contributions through cognitive studies in the domain of health informatics. She is an associate editor of the Journal of Biomedical Informatics and sits on the editorial boards of Artificial Intelligence in Medicine and Advances in Health Science Education. She is a past assistant editor of Artificial Intelligence in Medicine and has served on the editorial boards of Medical Decision Making, the Journal of Experimental Psychology, Topics in Cognitive Science and Computers in Biology and Medicine.
In her 28-year career dedicated to academic research and education, Dr. Patel spent the first 18 on research related to cognitive mechanisms underlying human performance in health care and in medical decision-making. The last decade has still been spent working on human cognition in health care, addressing issues of cognition in biomedical informatics (human-computer interaction, cognitive design, decision support, distributed cognition, and team decision making, especially in critical care settings). After moving to the US in 2000, she became the principal investigator on two R01 awards both of which focused on cognitive decision making and errors, one in critical care setting (NLM) and another with young adults' sexual risk taking behaviors (NIMH). With awards from Science Foundation Arizona and the Office of National Coordinators (ONC) in Washington, she forged to build a closer tie between cognitive psychological principles and health information technology. She just completed very successful a major 5-year James S. McDonnell Foundation research project on Complexity and Error in Health Care and is a most recent recipient of another R01 from AHRQ related to Impact of Meaningful Use on Clinical Workflow in Emergency Departments. She has mentored 34 master's students, 23 doctoral students, and 20 post-doctoral and research fellows in her 28-year career. She has over 300 scholarly publications spanning biomedical Informatics, education, clinical, and cognitive science journals and an editor of six books.